Crooked Stave Artisan Beer Project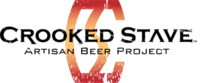 Address
Crooked Stave Taproom
3350 Brighton Blvd
Denver, CO. 80216

Yakobson Brett Tips
These tips are exerts based on a seminar by Chad Yakobson of Crooked Stave Artisan Beer Project
Brett does not produce flavor compounds that are as complex as single strain Saccharomyces, so blends are appropriate. Use multiple (3 or more) Brettanomyces strains for a better Brett character.
Brettanomyces is NOT a souring organism, though it does produce some acetic acid. Brett needs oxygen and will produce acetic acid (slight tartness) when well oxygenated early in primary fermentation.
Making a Brett yeast starter takes longer than a Saccharomyces starter, about 1 week.
Primary fermentation when making a pure Brett beer is recommended at 70F for one week.
A sour wort gives Brettanomyces better attenuation and a more complex, horsey, flavor (with less Brett pineapple and fruit contributions) in a Brett-only fermentation.
For a sour mash, do not oxygenate. Don't allow mash to drop below 120 F until pH is below 4.5 to decrease risk of spoilage.
In a highly phenolic wort, Brett will reduce the (banana) phenolics and cause medicinal characteristics.
Brett cells are smaller than Sacc cells, so they are harder to clean up. They can be killed by temperatures over 100 F.
Brett beers can have a thin mouthfeel because of high attenuation and Brett's lack of glycerol production. Brewer can adjust recipe (add oats/wheat 5%) and increase mash temperature to compensate.
Vienna and Munich work well in Brett beers because their flavor contributions will balance Brett's less complex flavor characteristics.
Brett will add bready aroma and/or flavor, so might need to decrease biscuity and bready malts in Brett beers.
Brett also can add astringency, so might need to adjust recipe for this.
See Also
References