MTF Community Projects
Beer It Forward
Twice a year, Josh Osborne organizes a "Beer It Forward" with members of Milk The Funk (currently organized by Josh Regenold and Andy Carter). It works like a "Secret Santa" where everyone puts their name in a bucket, and semi-randomly Josh picks people to secretly send beer to. People are generally paired with people on the other side of the US (currently the BIF is limited to the US). A limited quantity of beer is established by Josh, with a portion of that beer being beers that the sender brewed themselves. Sign-ups occur a month or so before the target dates, which are usually in the spring and fall. Below are the reviews and comments on beers received for the BIF.
BJCP 2021 Contributions
In 2020, Dan Pixley organized suggested updates to the BJCP for the "European Sour Ale" and" American Wild Ale" categories and submitted them to Gordon Strong for review by the BJCP. Some but not all of our suggested changes were accepted in the 2021 BJCP Guidelines. Some suggestions may have been added, but worded differently than what was suggested. These suggestions and all related discussions are archived below.
Related MTF Discussions on these changes:
Yeast Exchange Project
Wild Capture Swap
DeWayne Schaaf organizes a MTF Wild Capture swap.
Collaboration Brew
Dustin Carver organizes a collaboration brew that includes both commercial and homebrewers (ex: Toolbox "Truth From Heart", Dionysus Brewing "Milk The Funk #2).
Meetups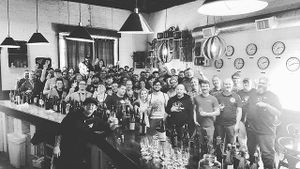 Milk The Funk hosts several regular meetups. Anyone can organize a meetup and post it to the "Events" tab in the MTF Facebook group. Meetups are also generally bottle shares as well but don't have to be. Reoccurring meetups include the following:
Yeast Company Collaborations
US TTB Formula Approval Helper
Michael Thorpe and Milk The Funk maintain a list of ingredients that have been approved by the TTB for a specific brewery to use but are not on the TTB exempt list. Help us out by adding your TTB approved ingredient to the list, or use this list to help you get approval for an ingredient that your brewery uses.
Other Community Projects
See Also
Additional Articles on MTF Wiki
External Resources
References