Jester King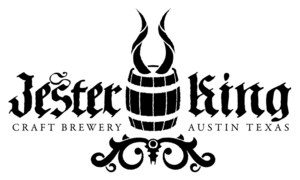 Jester King is a brewery that specializes in farmhouse ales, wild ales, and spontaneously fermented beers. The brewery tries to incorporate local ingredients such as well water, locally grown and malted grains, and native wild yeast as much as possible.
Website
Facebook
Twitter

Address
Jester King Brewery
13005 Fitzhugh Rd., Bldg. B
Austin, TX 78736
512-537-5100

Interviews
Podcast
JesterKingBrewery Soundcloud:Recently, Jester King Head Brewer Garrett Crowell and Barrel Program Head Adrienne Ballou gave a talk on mixed culture fermentation at the Austin Fermentation Festival. Here is the audio from the talk, where Garrett and Adrienne discuss how Jester King goes about fermenting its beers, how its mixed culture of yeast and bacteria was created, and what mixed culture fermentation means to us. We hope you enjoy listening!
Listen

The Sunday Session - Jester King Craft Brewery: Joining the crew in-studio is Jeff Stuffings and Ron Extract, the geniuses behind the fantastic beer coming out of Texas's Jester King Craft Brewery. Like the farmhouse breweries that inspired them, they use on-site well water, naturally occurring yeast from the Texas Hill Country, and organic ingredients with an emphasis on barrel-aging and bottle conditioning, and the results are some of the finest and most unique creations on the market today.
Listen
Video
Craft Commander - Jeffrey Stuffings: Founder of Jester King Brewery:
Austin Homebrew Supply - Homebrew Recipe Design Class with Jester King:
The Beer Temple - Jester King's Ron Extract and Jeff Stuffings:
Foeder for Thought 2017 at Green Bench (Spontaneous Series):
Recipes and Process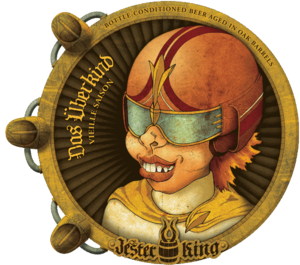 Das Überkind
Das Überkind is our most used and versatile barrel aged beer. We blend it with fresh, hoppy beer to make Das Wunderkind Blended Saison. We use it as the base beer for most of our fruit re-fermentation beers, and we also package it as a stand-alone beer. It's a pretty simple recipe.
OG: 1.038
FG: .998-1.002
SRM: 2.5-4.5
Malt
84% Pale 2-Row, or Pilsner
8% Raw wheat
4% Munich II (Dark Munich)
4% Flaked Oats
The specialty malts like Munich, and then Flaked Oats rotate based on what we have around the brewery. Sometimes we'll use spelt, or Maris Otter, or malted wheat etc.
Hops
10-15 IBUs
Always early kettle additions, at 60min.
Usually something like Golding, or Fuggle
Lately we've been adding aged hops for about 30% of our total hop volume with great results.
Mash
Mash-temp: 154-158F
Fermentation
We use a mixed culture of different yeast and bacteria for all fermentations. These include Dupont yeast, and Thiriez saison yeast, along with a multitude of yeast and bacteria from flowers around our brewery, spontaneous fermentation slurries, etc. These were all blended together one time, and have been evolving as a cohesive culture since being used in our brewery. We maintain this culture in house. Bottle dregs from any of our beers would be best to approximate the fermentation character we achieve.
Primary fermentation temp: 78F
We ferment in either stainless or an oak foudre before sending to smaller, 225L barrels. Secondary fermentation takes place at 62F – 55F. Average fermentation/aging for Das Uberkind is 8-24 months. We mostly use neutral wine barrels and find that very subtle oak character compliments this delicate beer.
More Recipes
Biere de Coupage Process
"For Das Wunderkind, we'll blend in 2 oak barrels of beer (59 gallons each) per 30bbls (930 gallons) of finished/fresh beer. The mature barrel aged beer is typically 8-24 months old. We then dry hop, cold crash after 1 week of dry hopping, and package. This is kind of our routine for biere de coupage, though sometimes we'll blend a little more beer for the Dichotomous series. The first batch of Hibernal Dichotomous had 10 oak barrels of beer blended into 45bbls of fresh beer, then refermented with pureed watermelon. Vernal Dichotomous had only 2 oak barrels blended in to 30bbls of fresh beer this year which was refermented with kumquats afterwards. I would say on average, the barrel aged component of our biere de coupage beers is about 10-12% of the total volume. Often times the barrel aged beer doesn't present especially remarkable character on it's own, other than some acidity. Blending it with the fresh beer can liven it up a bit." - Garrett Crowell [1]
References
↑

Garrett Crowell in a private corrospondence with Andrew "Gus" Addkison; posted with permission from Crowell.