Wild Yeast Isolation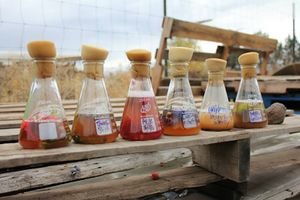 Wild yeast isolation, sometimes known as "yeast wrangling" or more formally "bioprospecting", refers to the process of catching wild, native yeast (autochthonous yeast), and isolating it with agar plates as a pure culture. This article will also contain information on growing up a captured culture in wort rather than isolating yeast cultures on agar plates. Culturing wild yeast and bacteria should not be confused with Spontaneous Fermentation because many of the microbes that might make a flavor impact during spontaneous fermentation are killed off during the bioprospecting processes. For general lab techniques, see Laboratory Techniques.
Special thanks goes out to Bryan Heit from Sui Generis blog and Jeff Mello from Bootleg Biology for providing the information in this article.
Isolating Pure Cultures
Preparation
Catching
"1) Prepare wort with an OG of 1.040, with enough lactic acid added to reduce the pH to 4.5. I'll often split this off of a normal brew day, prior to my hop addition, or you can make it from DME/LME. I am usually filling a 1L wide-mouthed pickel jar with the wort. I fill the jar to just below the threads.

2) I place the jar, covered with sanitised cheesecloth, in a place where I want to collect [microbes] from - usually I aim for an area with either growing plants (garden, etc), or in an area with lots of deciduous trees, as I've had the best success in these areas. I put the jars out in the evening, once the afternoon heat has passed, and gather them the next morning. I don't worry about having the wort hot and letting it "cool" to mimic a cool-ship as I've found this to not matter. In fact, I often pre-can (using a pressure canner) a few of these, and take them with me camping or to the cottage, to gather the local yeasts. You could even "guerrilla capture" yeast by sneaking these jars into local orchards/farms/etc...not that I'd ever do that ;-)

3) After collecting the (hopefully inoculated) jars, I remove the cheesecloth and replace it with the jar's lid + an airlock fitted into a hole I've drilled. I then place the jar in a dark warm place and let it sit for 3-4 weeks before I sniff test it. If it smells OK I will typically brew with it within the next 2 weeks.

A few other pieces of advice:

1) This works best in the spring and fall - e.g. when nighttime temperatures are getting below ~10C/50F. When its warmer I've found my success rate drops from >80% to ~50%. This doesn't work well if the temperature is going below freezing, as the small volume of wort will inevitably freeze.

2) A small amount of "pure" alcohol can be added to improve your chances - e.g. add enough vodka or other unflavoured cheap booze (whiskey, unflavoured rum, etc) to bring your starters alcohol content up to 3-5%; this will suppress a lot of the unwanted [microbes]. For example, in my case I typically have ~900ml of wort in my 1L jar. To get 5% ABV I would make up 790 ml of wort (at ~1.045), to which I would add 110 ml of 40% ABV vodka. This will give ~5% alcohol, and keep the gravity above 1.035. Obviously, you add the alcohol after the wort has been boiled/canned/etc as you won't want to boil it off.

3) Hoped wort can be used as well, although my success at getting yeast + lacto with hopped wort is poor...I usually only get yeast, even with a meagre 3-5 IBU.

4) Raccoons, possums, rats, squirrels, deer, and pretty much every other fur-bearing animal (and some of the feather-bearing kinds as well) love unfermented wort, so try to place your jar somewhere they cannot get at it - while still maintaining airflow. We've got wild turkeys in the back, and those f***ers can fly (editor's note: language, Bryan!), so its a real challenge to keep them out." [4]
Isolating
Identifying
Growing and Testing
Storage
Slants are a good option for longer term storage (3 months to potentially 2+ years). For instructions on how to make slants at home capable of storing any microbe for potentially 2+ years, see Bryan's video on Sui Generis Brewing (requires a pressure cooker).
Growing and Testing Without Plating
While using agar plates to isolate yeast colonies is the most effective way to culture wild yeast, it is not the only way. Wild yeast should first be caught using DME wort as outlined in one of Bootleg Biology's methods. Hopping the wort will help decrease bacteria if that is desired. The wort's pH should be lowered to 4.5 or lower with lactic acid to avoid bacteria as much as possible. Molds may still grow in the yeast starter even with the lower pH; wort that has grown mold should not be consumed because mycotoxins can contaminate the wort (see Mold). Keeping the foraged fruit, flowers, etc. under the surface of the wort will help reduce the chances of mold growth. Some brewers recommend submerging the fruit/flowers in the wort for a few minutes and then removing them to prevent them from attracting mold growth [7]. If the yeast cannot be separated from wort that mold grew on then it should be thrown out. Signs of a small krausen within 1-3 days is a good sign that viable wild yeast has been collected. After another few days, the yeast will start dropping to the bottom of the collection vessel [8].
Once the wort has fermented out (allowing 2 weeks total is a good rule of thumb), decant the beer and pitch the collected yeast into 500ml of starter wort, again lowering the pH of the starter wort to 4.5 with lactic acid. After the starter wort has been fermented, the yeast should have enough of a population to ferment out a 1 gallon batch of wort. Keep the recipe of the wort simple, and in the 1.050 gravity range. The yeast cell count should be high enough at this point to out-compete bacteria and lower the pH of the wort within a few days. The pH of the 1 gallon batch, therefore, does not need to be lowered, although the brewer may choose to do so anyway. For safety reasons, test to make sure that the beer fully attenuated and has a pH of 4.5 or less. Allow for one month after fermenting the 1 gallon batch of beer before sampling. If it smells like feces or vomit, do not sample it and throw it away. If the beer smells ok, feel free to sample the beer to see if the wild yeast produced a good tasting beer. David Thornton from SouthYeast Labs estimates that only about 10% of yeast that can fully attenuate produces favorable results, so failures are to be expected (keep trying!) [1]. Fermenting a few batches of beer at different temperatures is a useful method for identifying the ideal fermentation temperature range for the yeast.
Once a wild culture has been determined to be something that the brewer wants to keep for future batches, yeast harvesting methods can be used to maintain the culture. See Wyeast's article on yeast harvesting and harvesting from an over-built yeast starter.
See also:
Notes on Fermentation Timeframes
Some wild captures might take a long time to ferment. Most wild caught, non-isolated cultures that can ferment the sugars in wort take 2-4 weeks to ferment, although some can take longer and some can take less time (even just a couple of days). This is impossible to predict due to the impossibility of predicting what microbes are in a non-isolated wild culture. For example, wild Brettanomyces might take a long time to finish fermenting (up to 8 months to reach a stable gravity, according to Matt Spaanem). In some experiences, krausen will form for a few days, and then drop, and then form again (presumably as another microbe starts fermenting). Others ferment long and slow over a month or so. Once re-pitched with higher cell counts, often the fermentation times will hasten, but other times they will not. The best piece of advice is to take gravity readings to determine when the fermentation is finished instead of relying on visual indicators. Even though there could be a krausen and signs of fermentation, if the fermentation is going slow then it is possible that the sugars in the wort are not being fermented effectively (this might improve upon re-pitching as this should help select for microbes that can withstand this environment; see reference for more details on MTF members' experiences) [9].
Safety
An often asked question when it comes to tasting beer fermented from a wild culture that wasn't plated and isolated is, "When is it safe to drink?" To our knowledge, no studies have shown when a wild caught beer is scientifically ~99.9% safe to drink. However, several studies can give us some guidance on this, as well as Bryan from Sui Generis Blog.
Wild Brettanomyces
MTF Wild Capture Swap
DeWayne Schaaf organizes an occasional swap of wild caught microbes on MTF.
See Also
Additional Articles on MTF Wiki
External Resources
Links
Books
Videos
References